3D scanner SHINING 3D EinScan Pro 2X 2020
3D scanner EinScan Pro 2X 2020 is a new multifunctional device for digitizing volumetric objects from SHINING 3D.
The scanner is capable of reading the geometry of objects with color and textures at a speed of up to 30 frames and an accuracy of up to 0.04 mm.

Applications: Manufacturing and Reverse Engineering; 3D modeling of individual products and services using 3D printing; Medicine; Art and Heritage; Design; Research and education; Virtual display.

Scanner comes with Solid Edge Shining 3D Edition software.
Buy professional 3D scanner EinScan Pro 2X 2020
3D scanner EinScan Pro 2X 2020 is a multifunctional portable 3D scanner of a new generation. It is developed with feedback from thousands of users by SHINING 3D's own development team. With the versatile Pro 2X 2020, you can get a high-quality 3D model of any object faster and more accurately in almost any conditions. You can take this lightweight and compact 3D scanner wherever you go. And, thanks to the plug-and-play installation, it is easy to get a 3D model of the scanned object.
EinScan Pro 2X 2020 Benefits
Processes up to 1,500,000 points per second (30 frames per second) in manual fast scan mode and transfers data at high speed thanks to the USB 3.0 interface.
The precision of a single fixed scan reaches 0.04 mm.
Volumetric accuracy using markers in manual mode - up to 0.045 mm + 0.3 mm/m.
Minimum dot spacing of up to 0.2mm in Quick Manual Scan and High Definition Manual Scan modes, generating high resolution 3D data.
EinScan Pro 2X 2020 supports multiple scanning modes (manual, portable HD, fixed without turntable and fixed on turntable).
Several alignment modes are available: alignment by surface features, by markers, by texture, by targets on the turntable, manual alignment.
The capabilities of this device can be significantly expanded by purchasing the Color Pack modules (for scanning a full-color texture with geometry) and the Industrial Pack for more accurate static automatic scanning on a tripod.
Proprietary EXSCAN PRO scanning software
Makes 3D scanning as easy as creating a video for new or experienced users:
Convenient program management.

New operating mode option - ability to set resolution after data processing.
Simultaneous display of data.
Multiple alignments. Freely choose the alignment parameters of elements: marker, coded targets, textured or manual for different cases and increase the scanning efficiency.
Extensive output format options: STL, OBJ, PLY, ASC, 3MF and P3 make them compatible with most major software packages on the market.
While keeping your models waterproof, easily connect to 3D printers for 3D printing.
Provides mesh editing: cleanup, hole filling, data simplification, anti-aliasing, sharpening, etc.
Solid Edge SHINING 3D Edition
Solid Edge SHINING 3D Edition is a next-generation platform with reverse engineering, generative design and modeling capabilities along with CAD tools on one platform. SHINING 3D EinScan series 3D scanners integrated with Solid Edge SHINING 3D Edition provide users with a solution that covers all stages: 3D digitizing, design and modeling, and additive manufacturing.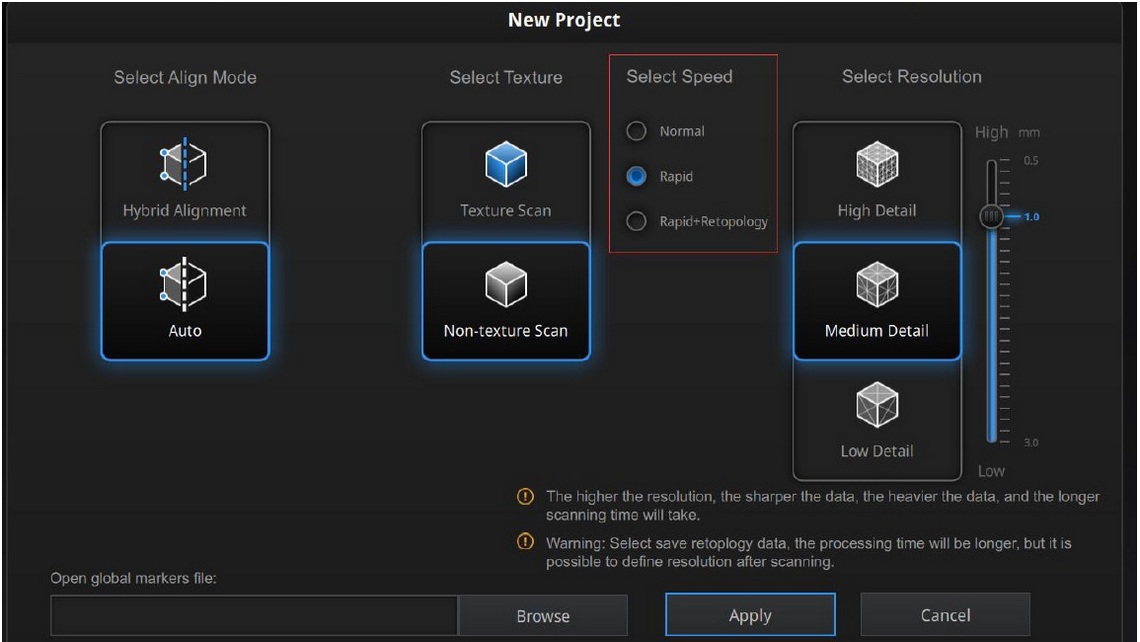 Buy EinScan Pro 2X 2020 3D scanner in Poland
Scanner 3D options
Light Source
LED
Scan Range (mm)
150 × 120 - 250 × 200
Stand-Off Distance (mm)
400
Scanner Type
Handheld
Additional Extensions
Yes
Color Scanning
Yes
Scan With Marks
Yes
Scan Mode
Handheld HD Scan, Handheld Rapid Scan, Fixed Scan with Turntable, Fixed Scan without Turntable
Other options
Scanning Speed (points/s)
Handheld HD Scan: 3,000,000. Handheld Rapid Scan: 1,500,000 . Fixed Scan with Turntable and without Turntable: Single Scan < 1s
Scan Accuracy (mm)
Handheld HD Scan: up to 0.045. Handheld Rapid Scan: up to 0.1. Fixed Scan with Turntable: 0.04 (single shot accuracy). Fixed Scan without Turntable: 0.04 (single shot accuracy)
Scan Depth (mm)
100
Point Distance (mm)
Handheld Scan: 0,2 - 2; Fixed Scan: 0,16
Positioning Methods
Handheld HD Scan: Marker, Feature, Hybrid. Handheld Rapid Scan: Marker, Texture, Feature, Hybrid. Fixed Scan with Turntable: Turntable Coded Targets, Feature, Markers, Manual Alignment. Fixed Scan without Turntable: Markers, Feature, Manual Alignment
Supported File Types
OBJ, STL, ASC, PLY, P3, 3MF
System Requirements
Required: Win 7-10, (64bit); Graphics card: Quadro card P1000 and above or NVIDIA GTX750 and higher; processor: Intel (R) xeon E3-1230, Intel (R) I5-3470, Intel (R) I7-3770; interface: high-speed USB 3.0; memory: 8G. Recommended: Graphics card: NVIDIA GTX/RTX series cards, higher or equal to GTX 1080;video memory: ≥4G; processor: I7-8700 or higher; memory: ≥64G; interface: high-speed USB
Manufacturer Country
China
Weight & Dimensions
Weight Netto (kg)
1,13
The Standard kit includes:

3D scanner
SolidEdge 2021 SE Software
The Extended kit includes:
3D scanner
SolidEdge 2021 SE Software
Geomagic Essentials Software
The Full kit includes:
3D scanner
SolidEdge 2021 SE Software
Geomagic Essentials Software
Industrial Pack