Refill EASY PLA filament for 3D printer
EASY PLA filament for 3D printer manufactured by Polish manufacturer Fiberlogy. An ideal material for simple 3D printing FDM/FFF with high quality results.
Refill EASY PLA is the basic material for 3D printing. Characterized by great strength, its properties allow for precise printing of complex elements. Can be used for prototyping, gadgets, toys, decor items. The ease of printing from this material will appeal to both beginners and professional users.
A skein of EASY PLA filament weighing 0.85 kg for a 3D printer. In sealed individual packaging, without reel.
What is Refill Plastic
REFILL Easy PLA is a spoolless plastic cartridge. It is compatible with the MASTERSPOOL reusable spool, which anyone can print using the affordable and free RichRap project. You can download the spool model from Thingiverse website. This is much more environmentally friendly and cheaper than buying plastic on a disposable reel. Fiberlogy is one of several firms in the world that have decided to add them to their offer.
EASY PLA properties
Biodegradable material based on natural raw materials.

Excellent adhesion between layers.
Wide range of colors.

Easy printing process.
Low heat resistance and low chemical resistance.
Notes: due to the dye used in Easy PLA White - the recommended minimum print temperature is 230 °C.
Application of Refill EASY PLA
The application is exactly the same as conventional plastic. The only difference is that Refill is more environmentally friendly. Use Refill Easy PLA along with a refillable spool to print toys, decorations, architectural models, gadget stands and cases, prototypes, jewelry, and more.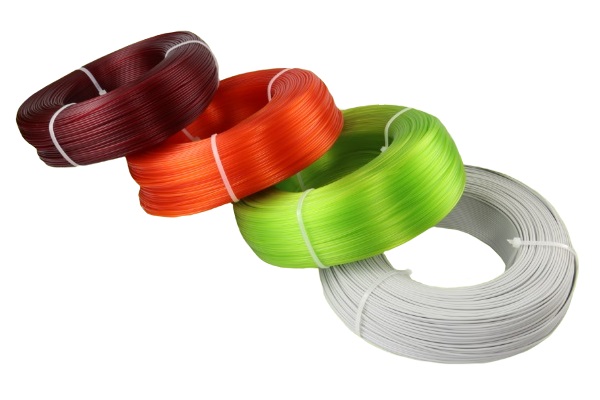 Buy consumables for 3D printer in Poland

FDM materials
Ø Of Plastic (mm)
1,75
Print Temperature (°C)
Up to 270
Material
PLA
Diameter Tolerance (mm)
+/- 0,02
Density (g/cm3)
1,24
Colours
Black, Blue, Graphite, Gray, Light Green, Orange, White. Special: Inox, Vertigo
Printing Options
Print Temperature (°C)
200 - 230
Bed Adhesive
Glass, masking tape
Bed Temperature (°C)
50 - 70
Heated Bed
Necessary
Closed Chamber
Not required
Active Cooling Fan (%)
75 - 100
Flowrate (%)
90 - 100
Print Speed (mm/s)
Up to 100
Retraction - Direct (mm)
2 - 3
Retraction - Bowden (mm)
4 - 6
Retraction Speed (mm/s)
20 - 45
Drying Conditions
50 °C / 4 h
Manufacturer Country
Poland
Weight & Dimensions
Plastic Weight (kg)
0,85
Fiberlogy manufactures its products on modern German equipment from high quality raw materials delivered from trusted suppliers. Quality control takes place at every stage of plastic production. Particular attention is paid to the filament purity and uniformity of its diameter along its entire length. The plastic diameter is checked with a laser micrometer to ensure the best dimensional tolerance (above average +/- 0.02 mm), and nozzles (+0.01 mm). Manufacturer reports about it every time on the packaging.