PETG filament Plexiwire 1,75 mm (300 m / 0,9 kg)
PETG plastic Plexiwire is a modified version of the well-known engineering PET plastic, in which glycol is added to the base material (polyethylene terephthalate). The result is a completely new material with different properties. PETG does not crystallize when heated because it has a more amorphous structure. Also, this material is more durable, heat-resistant and durable than PET plastic. While it is closer to ABS filament in properties, PET-G is as easy to work with as PLA.

Plexiwire PETG is an excellent material for use in 3D printers that is becoming more affordable and popular. With the correct print settings, PETG filament is very easy to print. This plastic has excellent layer adhesion and does not emit strong odors and toxic fumes. In addition, it has very low shrinkage, which improves print accuracy and allows large parts to be produced. At the same time, it is extremely robust and highly chemical resistant. This allows you to print objects that can withstand high temperatures, food grade or require very high levels of strength. The material is non-degradable and UV resistant. This allows the printed product to be used outdoors. Many people call it the perfect combination of PLA and ABS properties. When printing with Plexiwire PETG, you get stronger, more accurate parts than when printing with ABS plastic. But, at the same time, PETG does not decompose in corrosive environments and in the air like products from PLA materials.

Applications
PETG plastic is easy to print and chemically resistant. Due to this, this material has many fields of application. It is often used to make food containers and liquids. PETG is also widely used in medicine: its rigid structure allows it to withstand stringent sterilization processes, making it an ideal material for use in medical implants, as well as packaging for pharmaceutical and medical devices. A high level of resistance, together with resistance to aggressive substances, also helps to use it in moving mechanisms - it is often used in robotics.
Recommendations for 3D printing with

PETG plastic Plexiwire

For high-quality 3D printing, it is important to use active ventilation. This will help to avoid streaks and dangling threads. Although on the first layer, the fan can be turned off - this way you will increase the adhesion of the layers.


Adjust the retraction level to the optimum to prevent unnecessary drops of plastic. If, nevertheless, drips have formed, it is better to pause the print, remove them and start the print from the point where it was stopped.

Cleaning the desktop surface before each print will ensure that the printed model can be easily removed from it without damage.

Remember that PETG is a fairly moisture-absorbing plastic. This material must be properly dried before printing and stored in accordance with all the rules and requirements of the manufacturer. Otherwise, the plastic will absorb too much moisture, and your 3D printing results will be of poor quality.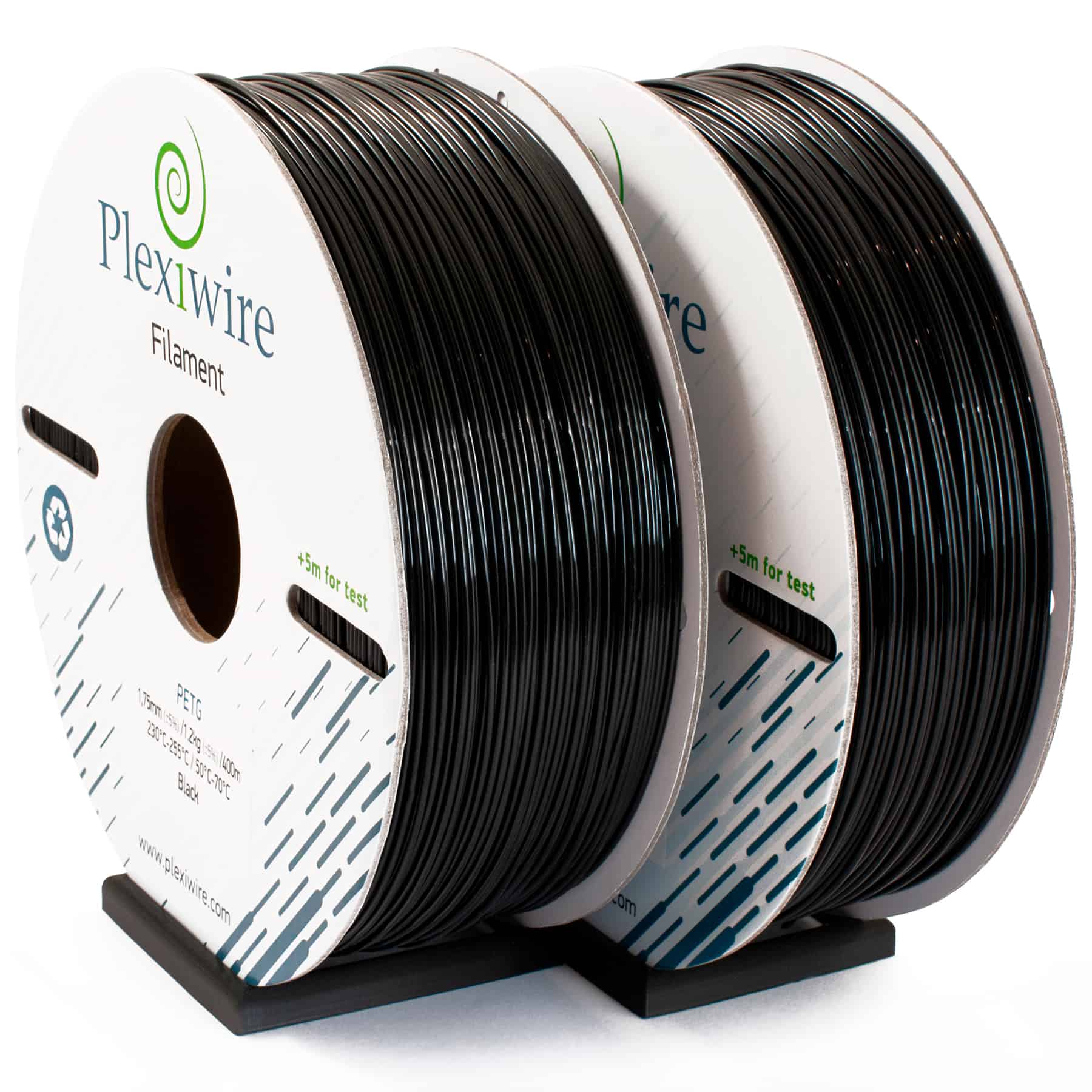 FDM materials
Ø Of Plastic (mm)
1,75
Weight & Dimensions
Plastic Weight (kg)
0,9