Polypropylene for 3D printing Spectrum Filaments 1.75 mm
Polypropylene for 3D printing from Spectrum Filaments has high impact and chemical resistance. This is a new material based on randomly unfilled copolymer polypropylene material. It has good mechanical properties combined with exceptional chemical resistance and low density. Spectrum PP does not require printing in a heated working chamber, it has improved adhesion of the layers, thus reducing the anisotropy of the finished part.
For accurate 3D printing results, it is recommended to use a construction platform with PP coating. Its specific quality is low moisture absorption, up to 0.3 %. In addition, Polypropylene has high flexibility (final elongation - 500 %) and high impact resistance, as well as reduced moment of inertia compared to metal parts. PP also has good chemical, temperature and electrical resistance. PP allows to obtain relatively high resistance to thermal aging, good tribological properties, including dry friction conditions, such as in plain bearings. Very good mechanical properties of PP provide a wide range of different applications.
To obtain very attractive technical properties of Spectrum PP, it is necessary to follow the basic rules of storage of such materials (in a dry and dark place with a humidity below 15 %). It is recommended that you dry the material before 3D printing for the best print results.

Characteristics of Polypropylene
Low processing (linear) shrinkage up to 0.3 %.

High impact resistance.
Easy separation of the object from the bed.
High mechanical strength.
Chemical resistance to lubricants and oils.
A wide range of applications.
Very robust lamination of layers.
Vicat softening temperature – 135 °C.
HDT B – 80 °C.
Application of PP
End-use parts.

Living hinges.
Functional prototyping.
Industrial modelling.
Lab equipment and mouldings.
Packaging.
Storage boxes and protective covers.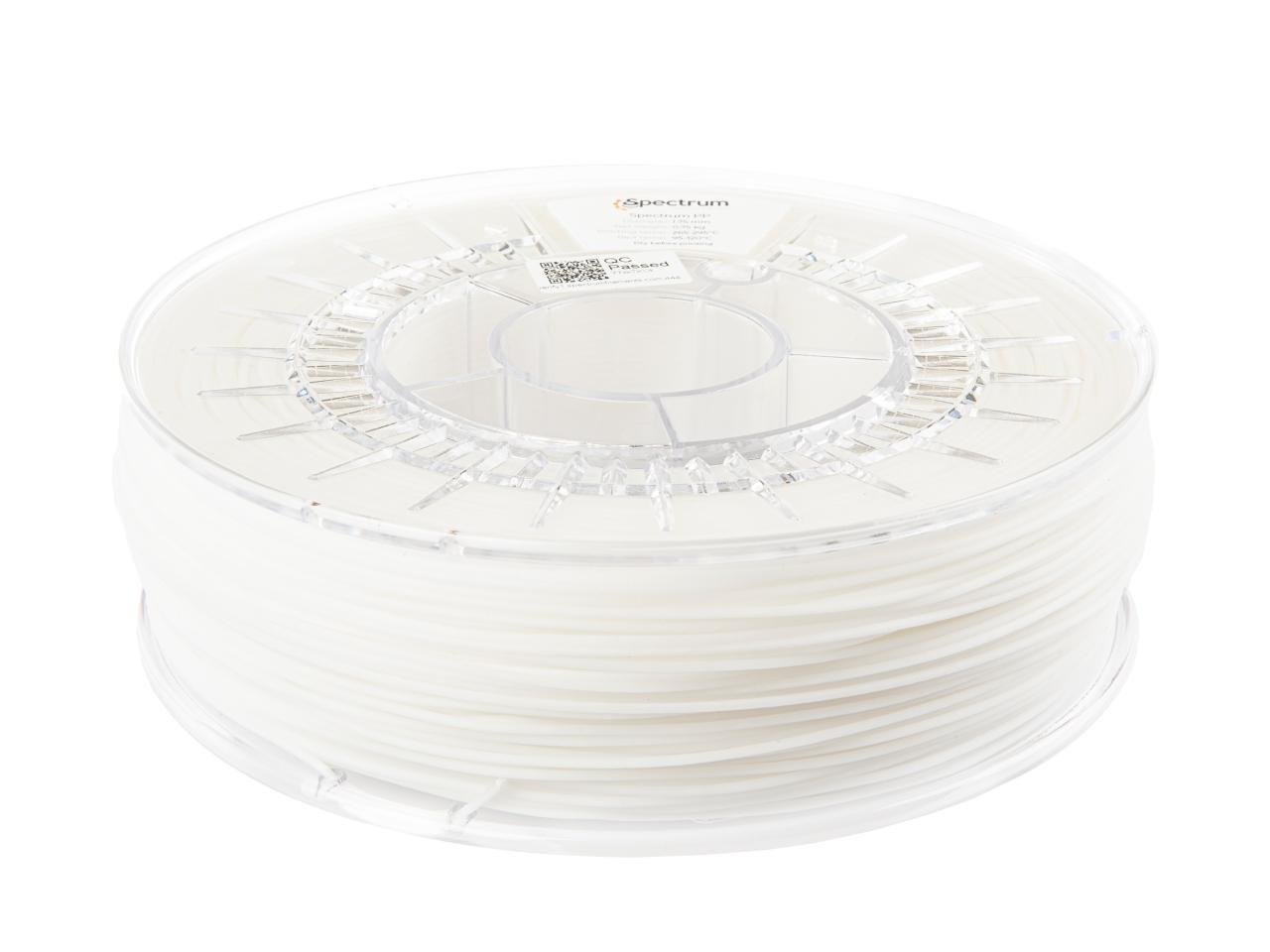 Packaging
A 0.75 kg filament is wound on a transparent spool, which contains information about the type of material, diameter, color and recommended printing temperature. Each coil is packed in a vacuum with a dehumidifier. All in the original Spectrum Filaments foil cardboard.
Coil dimensions

Outer diameter - 200 mm.

Width - 55 mm.
Inner diameter - 52 mm.
Weight of empty coil - ± 220 g.
Verify quality of 3D plastic thread
Spectrum Filaments is the only company in Poland and one of the few in the world that has a tool for testing purchased filaments. VERIFY YOUR SPOOL is the most accurate quality control system on the market, ensuring that Spectrum Filaments products meet his stringent requirements.
Filament for 3D printers is produced by free extrusion, which is one of the most difficult extrusion processing technologies, due to the particularly significant influence of process parameters on product dimensions and material homogenization. During the manufacturing process, each 1mm of Spectrum Filaments is continuously measured in 2 axes with an accuracy of ±0.8 µm, resulting in a quality end product. To prove this, Spectrum Filaments, as one of the few manufacturers in the world, has introduced the possibility of an online presentation, individually for each coil produced:
diameter travel along the entire length of the coil;
average diameter;
ovality;
standard deviation.
Buy polypropylene for 3D printing of Spectrum PP
FDM materials
Ø Of Plastic (mm)+
1,75
Print Temperature (°C)+
Up to 270
Material
PP
Diameter Tolerance (mm)
+/- 0,05
Density (g/cm3)
1,20
Thermal Resistance (°C)
Up to 135
Printing options
Print Temperature (°C)
220 - 240
Bed Adhesive
MAGIGOO PP
Bed Temperature (°C)
80
Heated Bed
Up to 135
Closed Chamber
Recommended
Active Cooling Fan (%)
Up to 50
Flowrate (%)
100 - 105
Print Speed (mm/s)
30 - 80
Retraction - Direct (mm)
1 - 3
Retraction - Bowden (mm)
4 - 6
Retraction Speed (mm/s)
25 - 45
Plastic Weight (kg)
0,75
Weight Brutto (kg)
1,15
Manufacturer Country
Poland