Medical polymer Formlabs BioMed White Resin

Medical polymer BioMed White Resin continues the line of biocompatible resins for 3D printing of medical parts by Formlabs. It is a solid opaque material that can be used to print parts for biocompatible applications that require prolonged skin contact or with mucous membranes. A distinctive feature of this family of resins is that the finished products from them can be subjected to standard methods of sterilization and disinfection*.
BioMed White Resin is unique in the Formlabs portfolio because it is proven for short-term contact with tissues, bones and dentin. In addition, it is USP Class VI certified, making it suitable for pharmaceutical applications and drug delivery. BioMed Resin materials are developed and manufactured at an ISO 13485 certified plant and are compatible with conventional disinfection and sterilization methods. This unique medical resin has been tested for pyrogenicity and acute systemic toxicity in accordance with US Pharmacopoeia standards. Therefore, it can be used in cases where short-term contact with tissues, bones and dentin is expected.
Print resolution: 50 microns, 100 microns.
Final polymerization is required.
* For a complete list of disinfection and sterilization methods, see the Data Tables, which can be downloaded from a separate tab on this page.
Application of BioMed White
The Formabs range of biomedical resins is designed for a wide range of applications where performance and biocompatibility are critical. Consider BioMed white resin for:
End-use medical devices and device components.

Models and shapes for determining the size of implants for a particular patient.
Guides for cutting and drilling.
Surgical instruments and templates.
Biocompatible forms, bases and fasteners.
Anatomical models that can be used in a surgical operating room.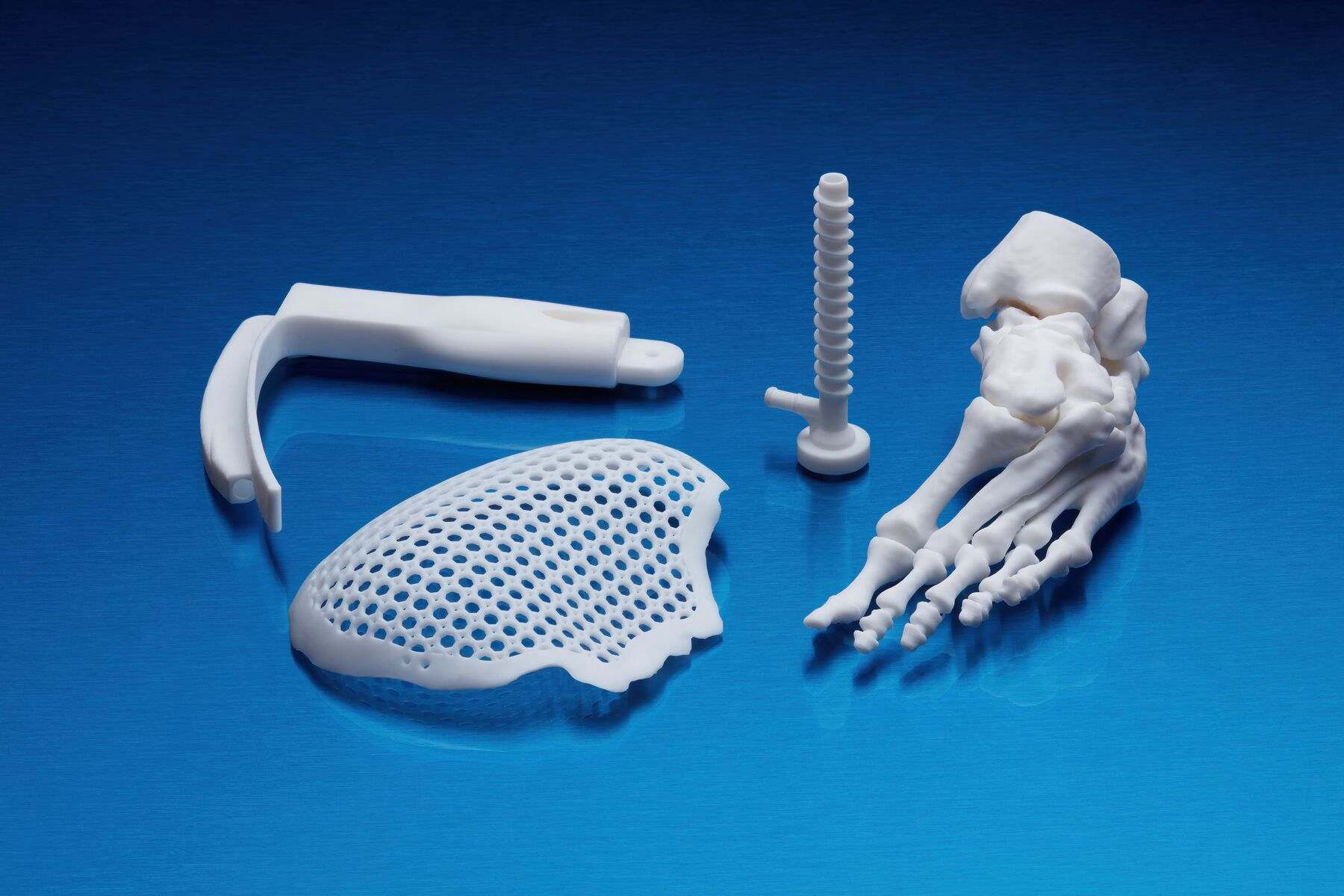 BioMed materials for medical 3D printing


BioMed Black Resin

BioMed White Resin

BioMed Clear Resin

BioMed Amber Resin

Can be sterilized

✔

✔

✔

✔

Transparency





✔

✔

Can be polished

✔

✔

✔

✔

Compatible with Form 2

✔

✔

✔

✔

Compatible with Form 3B/3B+/3BL

✔

✔

✔

✔

Certification


USP Class VI

ISO 10993-5, -10,-23


USP Class VI

ISO 10993-5, -10,-23

USP <151> Pyrogen

ISO 10993-11 Acute systemic Toxicity Testing


USP Class VI

ISO 10993-5, -10,-23

ISO 18562-1,-2,-3,-4


ISO 10993-5, -10,-23

ISO 13485


Layer thickness, μm

50, 100
50, 100

50, 100

50, 100

BioMed White Resin for short-term skin contact

See the Data Sheets of the Formlabs BioMed White Resin on "Download Data Sheets" tab
Material Parameters
Polymerization
Needed
Biocompatibility
Yes
Volume (L)
1
Manufacturer country
USA
| | | | | | |
| --- | --- | --- | --- | --- | --- |
| | Form 2 | Form 3 / Form 3+ | Form 3B / Form 3B+ | Form 3L | Form 3BL |
| Printer compatibility: | ✔ | - | ✔ | - | ✔ |
| | | | | | | |
| --- | --- | --- | --- | --- | --- | --- |
| | Form 2 STD | Form 2 LT | Form 3 V1 | Form 3 V2 | Form 3 V2.1 | Form 3L |
| Resin tank compatibility: | ✔ | ✔ | ✔ | ✔ | ✔ | ✔ |
| | | | |
| --- | --- | --- | --- |
| | Form 2 | Form 3B / 3B+ | Form 3BL |
| Layer height: | 50, 100 | 50, 100 | 100 |
Medical Resins
Download Technical Data Sheets for Medical Resins:
Download Safety Data Sheets for Medical Resins: