3D Printer CreatBot PEEK 300
CreatBot PEEK-300 is an industrial 3D printer designed for medicine, surgery, industrial production. Produces printing of high-performance materials: engineering plastics, materials with a high melting point, ultra-PEEK materials. The printer is equipped with highly efficient thermal control, direct annealing and cooling systems. Heat and cooling are perfectly balanced, allowing printing from 0.04 mm layer thickness for both common plastics and highly deformable materials.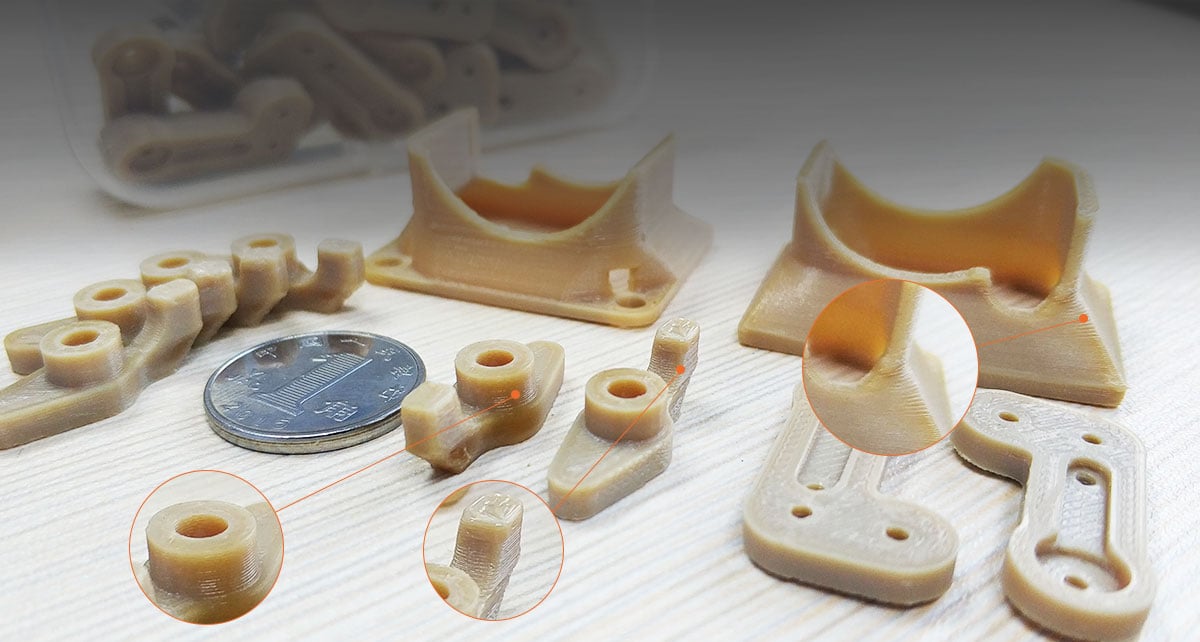 The print head with dual extruder and nozzle temperatures up to 500 °C allows you to work with a wide range of materials.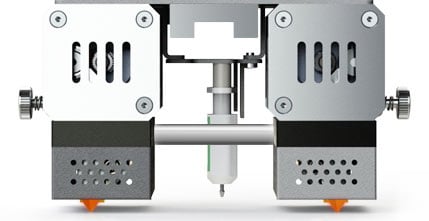 The print bed with temperatures up to 200 °C allows large models to be produced without deformation.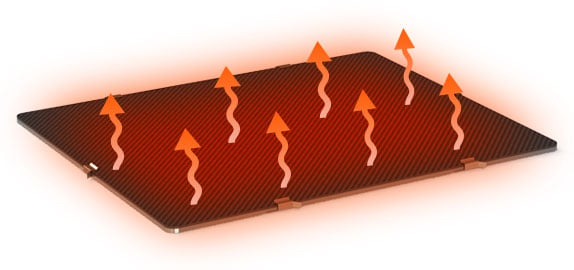 A chamber temperature of 120 °C also ensures the stability of the product without deformation or cracking.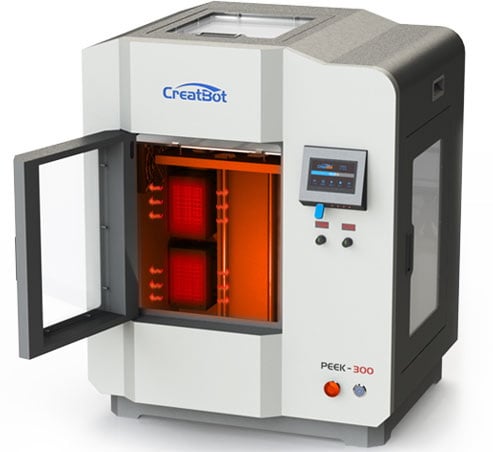 Triple thermal insulation of the chamber ensures safety and economy.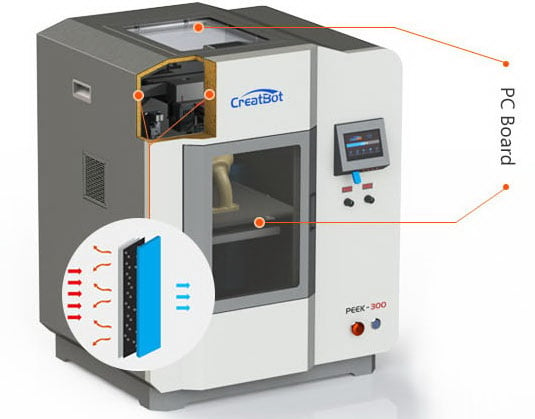 The dual cooling system is efficiently balanced and operates by circulating fluid and air flow.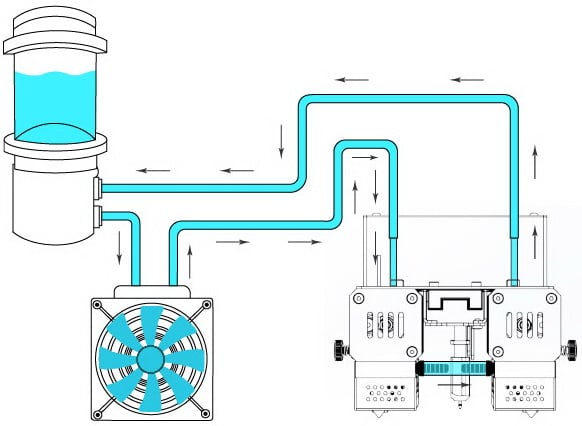 The direct annealing temperature of 0-400 °C ensures processing without deformation and cracking of large-sized products made of functional materials.
Before annealing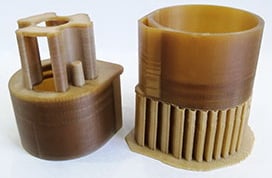 After annealing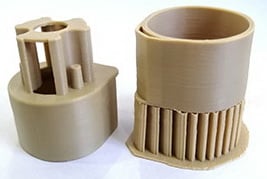 Specifications 3D Printer CreatBot PEEK300
Printing
Construction field
300 * 300 * 400 mm
Print accuracy
0.04 mm - 0.4 mm
Thread diameter
1.75 mm
Number of nozzles
Two extruders
Print speed
10-150 mm/s
Nozzle diameter
0.4 mm (0.3 ~ 1.0 mm optional)
Types of materials
Engineering plastics: PLA, PC, ABS, PA6, PETG, PVDF, TPU, FLEX. TPE. ABS. ASA, etc.
High temperature materials: PPSU, PEI (ULTEM), PA12, PSU, PPS, PA-CF, POM, PP
Ultra-performance materials: Medical PEEK, PEEK, CF-PEEK (Carbon fiber), GF-PEEK ( glass fiber), etc.
Software
Software Bundle
Creatware, Simplify3D, Cura, Slice3r
operating system
Win7 / 8/10, MacOS
Files for printing
STL, OBJ, AMF, Gcode
Special functions
Disconnect recovery
Resuming printing from where it stopped
Filament sensor
Automatic stop if thread runs out
Direct annealing system
The annealing process is instantly controlled during printing. It aims to deliver the highest quality parts in one go without warping and cracking printing from large functional materials
Thermal insulation
Triple thermal insulation
Emergency stop button
Emergency stop support
High temperature accessories
High temperature resistance motors, linear guides, belts and chains ensure long lasting high temperature printing
Temperature
Maximum nozzle temperature
500 ℃
Chamber temperature
120 ℃
Platform temperature
200 ℃
Annealing temperature
0 ~ 400 ℃
Mechanics
Cooling
Air pump cooling and water cooling
Platform
PCB aluminum + PEEK print board
Positioning accuracy
XY axis 0.01mm, Z axis 0.0025mm
Extruder
Direct drive
Design
Fully enclosed hot cell
Calibrating the table
Manual / Automatic
Electronics
Input power
100 ~ 230 V, 1.5 A
Maximum power
3,000 W
Consumption
24 V, 15 A
Screen
4.3" full color touch screen, multi-language
Printing method
USB Connectivity / USB Disk
Size and weight
3d printer size
650 * 600 * 750 mm
The weight
100 kg
Printer size with packaging
650 * 600 * 750 mm
The weight
100 kg
FDM printer options
Printing technology
FDM
Minimum layer height (micron)
40
Build Field (mm)
300*300*400
Ø of plastic (mm)
1,75
Number of extruders
2
Chamber type
Closed
Heating the chamber
Yes
Plastic drying
No
Autocalibration
Yes
Feeder type
Direct
Other options
Diameter of the nozzle (mm)
0,4 (optional 0,3 - 1,0)
Positioning accuracy (µm)
XY: 10; Z: 25
Print speed (mm/s)
From 10 to 150
Maximum nozzle temperature (°C)
500
Maximum chamber temperature (°C)
120
Heating the platform
Yes
Direct annealing temperature (°C)
0 - 400
Maximum platform temperature (°C)
200
Platform material
PCB aluminum + PEEK print board
Special Function
• Power outage: resume printing from where it was stopped • Thread breakage: automatic stop • The annealing process is instantly controlled during printing. It aims to provide the highest quality parts in one go without warping and cracking printing from large functional materials • Triple thermal insulation • Emergency stop button • High temperature resistance motors, linear guides, belts and chains provide long lasting high temperature printing • Air pump cooling and water cooling
Printing material
Engineering plastics: PLA, PC, ABS, PA6, PETG, PVDF, TPU, FLEX. TPE. ABS. ASA, etc. High temperature materials: PPSU, PEI (ULTEM), PA12, PSU, PPS, PA-CF, POM, PP Ultra-performance materials: Medical PEEK, PEEK, CF-PEEK (Carbon fiber), GF-PEEK (glass fiber), etc.
Operating system
Win 7/8/10, Mac OS
Software
Creatware, Simplify3D, Cura, Slice3r
Printer control
4.3'' full color touch screen, multi-language
Connectivity
USB Connectivity/USB Disk
File format
STL, OBJ, AMF, G-CODE
Power supply
200~240V, 20A, 4600W
Weight Netto (kg)
100
Dimensions Assembled (mm)
650*600*750
Weight Brutto (kg)
130
Dimensions Brutto (mm)
820*720*1080