3D Printer CreatBot F160 Peek
This 3D printer model is as close as possible to professional 3D printing devices in terms of its characteristics. The CreatBot F160 Peek 3D printer differs in all the features of its line, but at the same time it is equipped with more professional mechanics. In fact, this is a professional 3D printing device in a reduced size.
Important features of the model are a small building field 160 x 160 x 200 mm, as well as a modified extruder that heats up to 420 °C. Together with a platform heated to 150 °C, these characteristics make it possible to use a wide range of high-precision materials requiring high melting temperatures.

The device is ideally suited for the manufacture of small, complex structures for medicine and industry. High printing accuracy and support for working with almost all types of plastics make this model truly versatile. On top of that, the CreatBot F160 Peek is simple, functional and easy to use, as well as packed with many useful features.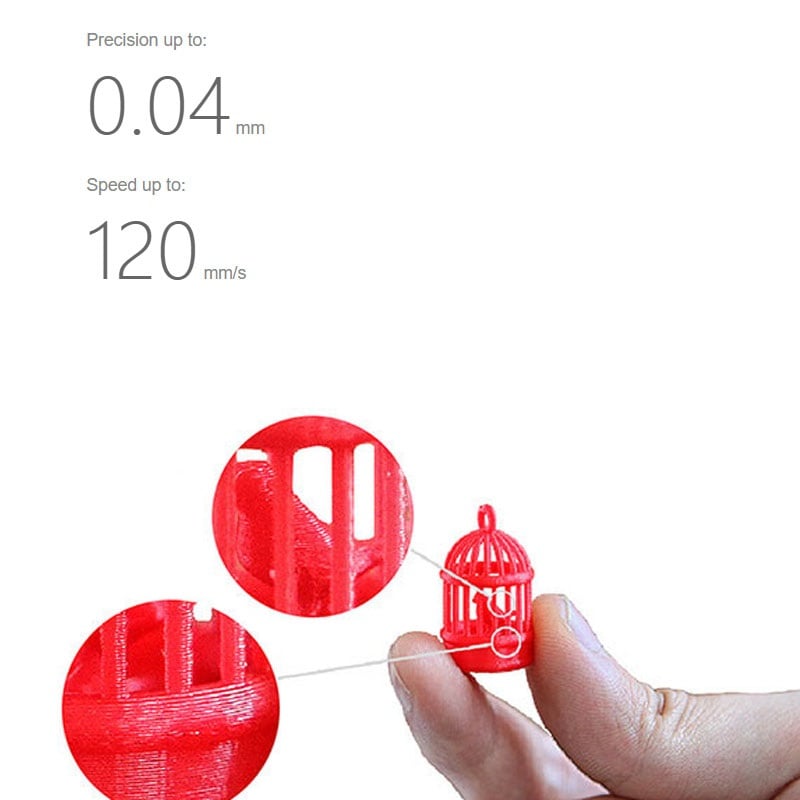 Buy 3D printer CreatBot F160 Peek
Good build quality. This is a crucial characteristic for a good print. The quality of assembly determines the quality of reproduction and the durability of the printer;
High temperature printing with almost all types of 3D plastics. Due to this, you have the freedom to choose professional consumables and more scope for the implementation of any projects;
Thanks to the high printing accuracy of 0.04 mm and a layer height of 0.01 mm of the CreatBot F160 Peek, you can print 3D models very accurately and very quickly;
Power failure protection. When the power is turned off, printing will pause and continue without problems from the same place after the power is restored;
"Smart" shutdown. At the end of printing, the printer will turn itself off, and first the platform and the extruder will cool;
High temperature of heating of the extruder - as much as 420 °C! This is a record among existing FDM 3D printers;
High quality PEEK filament, requiring an extrusion temperature of 420 °C, with high strength, high toughness, corrosion resistance and wear resistance, can be used in aerospace, electronics, medical, mechanical engineering, automotive and other industries.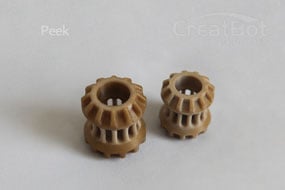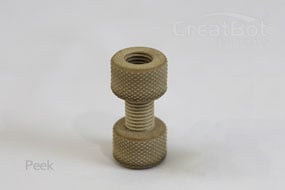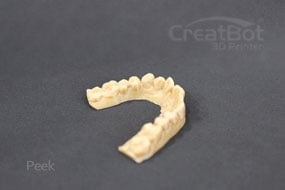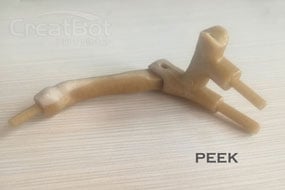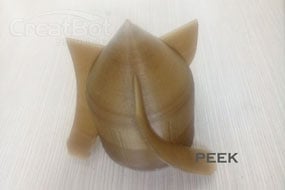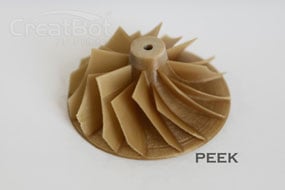 Plastic feed sensor. Controls the supply of material and suspends printing if it breaks or ends;
Convenient and simple printer management.
Equipment
Power cable
USB cable
Adhesive tape for 3D printing
USB stick with software
Spare parts
Set of tools
Instructions
2 packs of ABS or PLA plastic


Printer Options
Printing Technology
FDM
Minimum Layer Height (micron)
40
Build Field (mm)
160*160*200
Ø Of Plastic (mm)
1,75
Print Temperature (°C)
Above 270
Number Of Extruders
1
Chamber Type
Closed
Heating The Chamber
Yes
Plastic Drying
No
Autocalibration
No
Feeder Type
Direct
Other options
Stepper Motors
1.8° Step Angle with 1/16 Micro-stepping
Body Material
Powder coated steel, die-cast aluminum for motion components, POM, etc.
Nozzle Diameter (mm)
0,4 (optional 0.3, 0.5, 0.6, 0.8, 1,0)
Maximum Nozzle Temperature (°C)
420
Positioning Accuracy (µm)
ХY: 12,7; Z: 1,25
Print Speed (mm/s)
Normal 70, Max 300
Maximum Chamber Temperature (°C)
70
Platform Heating
Yes
Maximum Platform Temperature (°C)
150
Platform Material
Heatable Aluminium PCB with BuildTak
Supported Materials
PLA, ABS, PLA+, ABS+, ASA, HPLA, Elastan, Plastan, Primalloy, Flex, TPU, TPE, PMMA, PET, PEEK, POM, PA (Nylon), PA6, Conductive ABS, Flame Retardant, Marble White PLA, Ceramic, Aluminium, Cooper, Bronze, Brass and Gold PLA filaments, Wood, Carbon Fiber, PC, PETG, HIPS, PP, PVA
CPU
ATmega 2560
Control
4.3" Touch Screen with Multi-language
Features
Data retention in case of sudden power outage; Pause printing in case of thread breakage; Auto power off after print job
Supported File Types
STL, OBJ, AMF, GCO, GCODE
Operating System
Windows (7,8,10), Mac OS X
Software
CreatWare, Simplify 3D, Cura, Slice 3r
Connectivity
USB
Power Input
100~240V, 50~60Hz, 1100W
Weight & Dimensions
Weight Netto (kg)
18
Dimensions Assembled (mm)
370*320*490
Weight Brutto (kg)
23
Dimensions Brutto (mm)
470*420*600