3D printer CreatBot DX Plus buy
3D Printer CreatBot DX Plus is the latest 3D printer with a huge print area of ​​300 x 250 x 520 mm. The die-cast and very durable metal housing of the CreatBot DX Plus 3D printer allows you to print at maximum speeds without losing print quality. The stepper motor is located at the back of the printer, which reduces the weight of the print head and achieves high speed 3D printing.
In the CreatBot DX Plus 3D printer, the extruders have an intelligent cooling system, so that the 3D plastic is fed at the optimal temperature. The adjustable nozzle height design allows multiple nozzles to be set up more quickly and easily, ensuring perfect accuracy when printing multi-color models.

3D printer CreatBot DX Plus
CreatBot DX Plus is the latest 3D printer equipped with a power management module. This function enables the 3D printer to turn off automatically after printing. When printing is complete and there is no keyboard activity for five minutes, the system automatically turns off the printer. This feature is very useful and can help you reduce the power consumption of your printer.
The CreatBot DX Plus 3D Printer is equipped with a multifunctional control panel that provides direct access to a specific function at the touch of a button. The keyboard has 9 keys. Auxiliary functions include: to move up and down the Z shaft, heat or cool the platform, pause or continue printing, and other unique software functions.
Gear motors run more revolutions than conventional stepper motors, resulting in easier yarn glide and improved plastic feeding accuracy. The feed roll is also designed to feed the plastic without damaging the filament.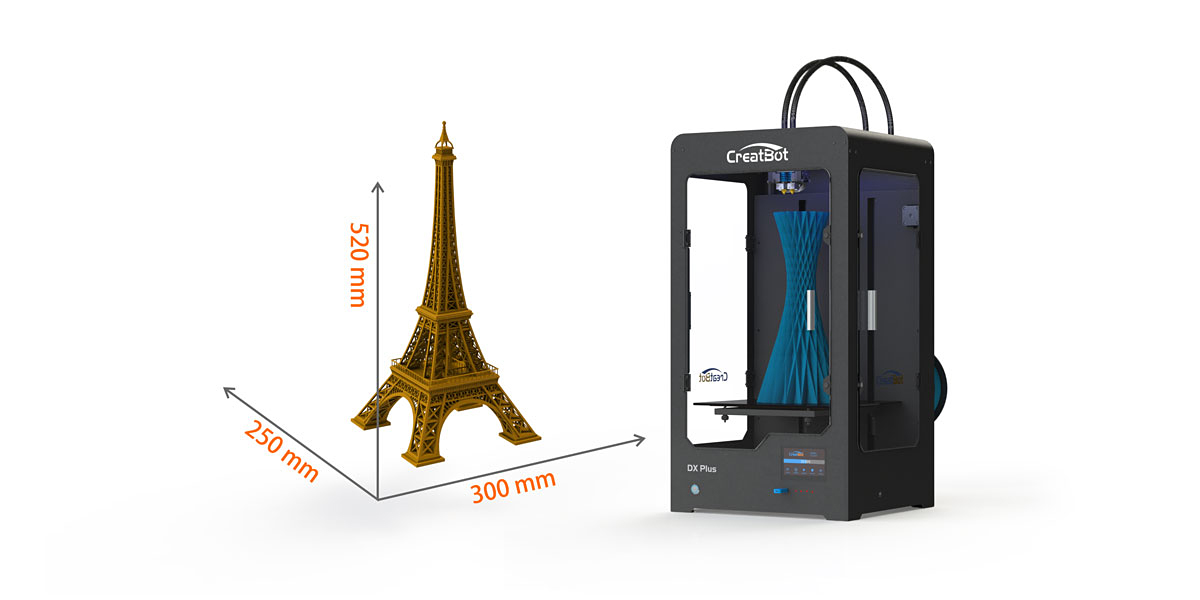 Ceramic platform 3D printer
The ceramic platform of the heated 3D printer ensures uniform heating, and the thermal efficiency is greatly improved, which can significantly reduce power consumption. The platform has a smooth surface on a silicone base, which means they have a longer service life.
The metal platform tray is more rigid, which reduces vibration during operation. The metal bracket for fixing the tray is up to 10 mm thick, so the platform heats up very quickly and evenly.
The plastic feed mechanism is located at the rear of the machine, making the nozzle head extremely light. Also, feeding the plastic from the bottom allows you to achieve maximum speed during printing.
The main advantages of a 3D printer
Cast steel body
Build area: 300 x 250 x 520 mm
Supports two / three extruders
Supports 3.0 and 1.75mm filament
High-precision mechanics + reliable steel case allow 3D printing at prohibitive speeds without the risk of damaging the printer or spoiling the part.
Contents of delivery
Power cable
USB cable
Adhesive tape for 3D printing
SD card with software
Spare parts
Set of tools
SD card adapter
User manual in English
2 packs of ABS or PLA plastic

Printer Options
Printing Technology
FDM
Minimum Layer Height (micron)
50
Build Field (mm)
300*250*520
Ø Of Plastic (mm)
1,75 (3,0 or 2,85 optional)
Print Temperature (°C)
Up to 270
Number Of Extruders
2 (3 optional)
Chamber Type
Closed
Heating The Chamber
No
Plastic Drying
No
Autocalibration
No
Feeder Type
Bowden
Other options
Stepper Motors
1.8° Step Angle with 1/16 Micro-stepping
Body Material
Powder steel, aluminum for motion components
Nozzle Diameter (mm)
0,4 (optional 0,3; 0,5; 0,6; 0,8; 1,0)
Maximum Nozzle Temperature (°C)
260
Positioning Accuracy (µm)
XY: 12,7; Z: 1,25
Printing Accuracy (µm)
50
Print Speed (mm/s)
From 40 to 200
Platform Heating
Yes
Maximum Platform Temperature (°C)
100
Platform Material
Glass Ceramic Panel
Supported Materials
PLA, ABS, Carbon Fiber, Wood, Nylon, PC, PETG, HIPS, PP, Flexible, TPU, PVA
Language
Multi-language
CPU
ATmega 2560
Control
4.3" Touch Screen
Assembly Type
Supplied assembled
Features
Save data when power is off; Pause printing when filament run out; Turn off the power automatically when printing is complete
Supported File Types
GCO, GCODE, STL, OBJ, AMF
Operating System
Win7/8/10, MacOS
Software
CreatWare, Simplify 3D, Cura, Slice 3r, etc
Connectivity
USB
Power Input
100-240V, 50-60Hz, 350W
Manufacturer Country
China
Warranty Period (months)
12
Weight & Dimensions
Weight Netto (kg)
35
Dimensions Assembled (mm)
420*380*790
Weight Brutto (kg)
40
Dimensions Brutto (mm)
550*500*870
Environment Parameters
Operating Temperature Range (°C)
15-32